The sleek aesthetics of a
gaming office chair
are a prominent characteristic that sets it apart from traditional office chairs. These aesthetics are designed to combine the professional look of an office chair with gaming-inspired style. Here are the key characteristics of sleek aesthetics in a gaming office chair:
Modern Design: Gaming office chairs typically feature a modern and contemporary design that appeals to a wide range of users. They often have clean lines, a streamlined silhouette, and a polished appearance.
Vibrant Colors: Many gaming office chairs are available in a variety of vibrant and eye-catching colors, such as red, blue, green, or even more subdued options like black or gray. These color choices allow users to match the chair with their office or gaming setup.
Racing-Inspired Style: Some gaming office chairs draw inspiration from racing car seats. They may incorporate sporty elements like racing stripes, faux carbon fiber accents, and bold stitching patterns to create an appealing and dynamic appearance.
Embroidered Logos and Branding: To enhance the gaming aesthetics, gaming office chairs may feature embroidered logos or branding of gaming companies or gaming-related themes. These details add a touch of personality to the chair.
Contrasting Materials: Gaming office chairs often use contrasting materials, such as PU leather or fabric upholstery combined with metal accents or plastic trim, to create an interesting visual contrast.
Sleek Lines and Contours: The design of these chairs usually includes sleek lines and contours that create a sense of motion and dynamism, giving the chair a more visually appealing and exciting appearance.
Premium Material Finish: High-quality materials are commonly used for the chair's construction and upholstery, providing a polished and upscale look. For instance, PU leather with a glossy finish is a popular choice for a premium appearance.
Minimalistic Appearance: While some gaming chairs are designed with a bold and striking appearance, others take a more minimalistic approach. They may feature subtle, tasteful details that don't overpower the overall design.
Adjustable Elements: Despite their sleek aesthetics, gaming office chairs often retain adjustable features like customizable armrests and ergonomic support for comfort and functionality.
Brand-Specific Design: Some gaming office chairs are designed in collaboration with gaming companies or esports teams, incorporating unique branding elements and themes that resonate with fans and enthusiasts.
Overall Professional Appearance: While gaming office chairs have gaming-inspired aesthetics, they maintain a professional and business-friendly look that makes them suitable for office environments. This balance ensures that users can use them for work without compromising on style.
The sleek aesthetics of a gaming office chair are intended to cater to users who want a chair that not only provides ergonomic support but also complements their gaming setup or office decor with a modern and stylish appearance. These chairs are versatile, offering a blend of functionality and aesthetics, making them suitable for both work and gaming environments.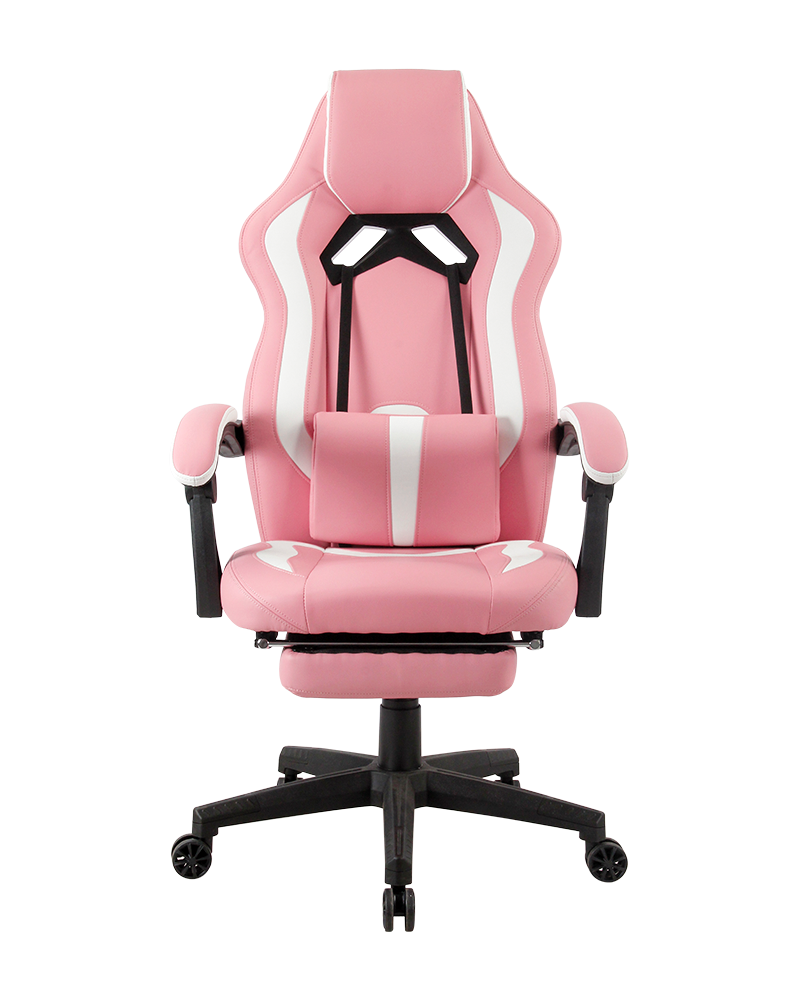 Judor high back swivel computer pink gaming chair racing chair with footrest